February 24 • March 3, 10, 17, and 27 
Prayers & Discussion will be conducted on Zoom
Chefs Ellen Greaves and Jean Mackenzie will cook and package soups for pickup at the church on Wednesdays during the day. Ellen and Jean will announce the soups the week prior so that we can order the sizes and quantities ahead of time.
This is a wonderful way to have a meal with family members or friends within your "bubble" and participate in this year's program.
We will discuss Jacob Needleman's 2003 book, The American Soul:Rediscovering the Wisdom of the Founders, previously slated for Sunday discussion.

March Book Club Meeting – Thursday, March 11 at 6:30 PM via Zoom
Before We Were Yours by Lisa Wingate
Memphis, 1939. Twelve-year-old Rill Foss and her four younger siblings live a magical life aboard their family's Mississippi River shantyboat. But when their father must rush their mother to the hospital one stormy night, Rill is left in charge—until strangers arrive in force. Wrenched from all that is familiar and thrown into a Tennessee Children's Home Society orphanage, the Foss children are assured that they will soon be returned to their parents—but they quickly realize the dark truth. At the mercy of the facility's cruel director, Rill fights to keep her sisters and brother together in a world of danger and uncertainty.
Aiken, South Carolina, present day. Born into wealth and privilege, Avery Stafford seems to have it all: a successful career as a federal prosecutor, a handsome fiancé, and a lavish wedding on the horizon. But when Avery returns home to help her father weather a health crisis, a chance encounter leaves her with uncomfortable questions and compels her to take a journey through her family's long-hidden history, on a path that will ultimately lead either to devastation or to redemption.
Based on one of America's most notorious real-life scandals—in which Georgia Tann, director of a Memphis-based adoption organization, kidnapped and sold poor children to wealthy families all over the country—Lisa Wingate's riveting, wrenching, and ultimately uplifting tale reminds us how, even though the paths we take can lead to many places, the heart never forgets where we belong.
The following meeting will be on Vanishing Half by Brit Bennett. This book is very popular right now, so for those of you who borrow rather than buy, please allow for extra wait time.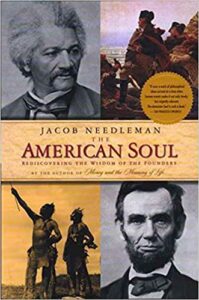 Upcoming Lenten Season Study Program with Fr. Patrick
Entering the season of self examination that is Lent this year has been made more important and challenging by the unprecedented events that have marked our lives of late. Pandemic, social unrest, increased tension in the fabric of our society, and the sometimes virulent disputes over what it means to be Americans. We, as Christians in our nation and as a part of this community, need to reconnect intellectually and spiritually with what America is and means, what is the ideas it represents, in short, what is its soul.
To inform and structure this examination, Fr Patrick will lead us online through a book study of Jacob Needleman's 2003 book, The American Soul: Rediscovering the Wisdom of the Founders.
In this stimulating, challenging, and inspiring book bestselling author Jacob Needleman looks at the lives of America's founders including Washington, Jefferson, and Franklin scholar and explores their core of inner beliefs; their religious and spiritual sensibilities; and their individual conception of the purpose of life.
The founders, Needleman argues, conceived of an "inner democracy": a continual pursuit of wisdom and self-improvement that would undergird the outer democracy in which we live today. Any understanding of America as a nation of spiritual values will in the years ahead require Needleman's work as a point of reference.
The San Francisco Chronicle said of the book, "If ever a work of philosophical ideas arrived at a time when human events make it not only timely but urgently relevant, The American Soul is such a book." Also, "[The book is] so literate it comes close to poetry…[Needlman] makes you think and rethink most of the ideas you ever had about the stunning people who give American history both its exceptionalism and its commonalities."
The meetings will take place on Zoom during the 10:00 hour on
Sundays, and will be recorded to be viewed later online on Facebook and YouTube.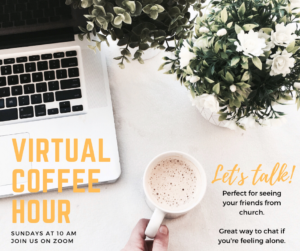 Sunday Coffee Hour
Join us every Sunday via Zoom and at the Church at 10 AM.

Monday Lectionary Bible Study
Fr. Patrick's weekly bible study meets in-person and via Zoom on Mondays at 10 AM.