January Book Club Meeting
Dear and Glorious Physician by Taylor Caldwell
Today St. Luke is known as the author of the third Gospel of the New Testament, but two thousand years ago he was Lucanus, a Greek, a man who loved, knew the emptiness of bereavement, and later traveled through the hills and wastes of Judea asking, "What manner of man was my Lord?" And it is of this Lucanus that Taylor Caldwell tells here in one of the most stirring stories ever lived or written.
Credit: Good Reads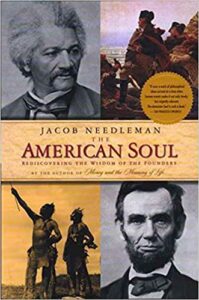 Upcoming Lenten Season Study Program with Fr. Patrick
Entering the season of self examination that is Lent this year has been made more important and challenging by the unprecedented events that have marked our lives of late. Pandemic, social unrest, increased tension in the fabric of our society, and the sometimes virulent disputes over what it means to be Americans. We, as Christians in our nation and as a part of this community, need to reconnect intellectually and spiritually with what America is and means, what is the ideas it represents, in short, what is its soul.
To inform and structure this examination, Fr Patrick will lead us online through a book study of Jacob Needleman's 2003 book, The American Soul: Rediscovering the Wisdom of the Founders.
In this stimulating, challenging, and inspiring book bestselling author Jacob Needleman looks at the lives of America's founders including Washington, Jefferson, and Franklin scholar and explores their core of inner beliefs; their religious and spiritual sensibilities; and their individual conception of the purpose of life.
The founders, Needleman argues, conceived of an "inner democracy": a continual pursuit of wisdom and self-improvement that would undergird the outer democracy in which we live today. Any understanding of America as a nation of spiritual values will in the years ahead require Needleman's work as a point of reference.
The San Francisco Chronicle said of the book, "If ever a work of philosophical ideas arrived at a time when human events make it not only timely but urgently relevant, The American Soul is such a book." Also, "[The book is] so literate it comes close to poetry…[Needlman] makes you think and rethink most of the ideas you ever had about the stunning people who give American history both its exceptionalism and its commonalities."
The meetings will take place on Zoom during the 10:00 hour on
Sundays, and will be recorded to be viewed later online on Facebook and YouTube.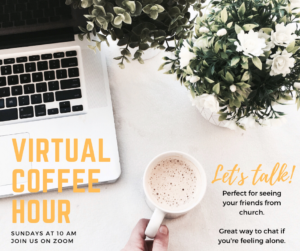 Sunday Coffee Hour
Join us every Sunday via Zoom and at the Church at 10 AM.

Monday Lectionary Bible Study
Fr. Patrick's weekly bible study meets in-person and via Zoom on Mondays at 10 AM.