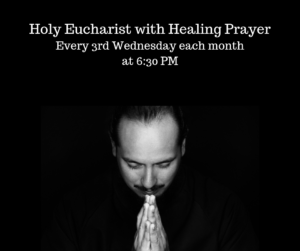 Centering Prayer at St. John's
FIRST THURSDAYS OF EVERY MONTH AT 7PM 
Centering Prayer is a method of quiet meditation in which a single, symbolic word is used as a sign of one's willingness to wait on God and be available to God's presence. This word is used as a point of focus. The discipline involves setting aside twenty minutes or so for quiet prayer. This apophatic (self-emptying) method of prayer has been widely taught and practiced in the West since the Third Century, beginning in the deserts of Egypt near Alexandria. More recently it has enjoyed a resurgence since the early 1980s.
Modern mystics and teachers such as Basil Pennington and Thomas Keating have taught and written about this ancient and ever pertinent spiritual practice. Come and share in this deeply meditative and calming practice for hearing God's still small voice in our lives.
March Book Club Meeting
THURSDAY, MARCH 12 AT 6:30 PM • Contact Deborah Edwards or Sandra J Klemuk  for more information
Our book club is excited to announce our next read for discussion
Rules of Civility by Amor Towels
Rules of Civility presents the story of a young woman whose life is on the brink of transformation. On the last night of 1937, twenty-five-year-old Katey Kontent is in a second-rate Greenwich Village jazz bar when Tinker Grey, a handsome banker, happens to sit down at the neighboring table.
This chance encounter and its startling consequences propel Katey on a year-long journey into the upper echelons of New York society—where she will have little to rely upon other than a bracing wit and her own brand of cool nerve.
With its sparkling depiction of New York's social strata, its intricate imagery and themes, and its immensely appealing characters, Rules of Civility won the hearts of readers and critics alike.