Current Sermons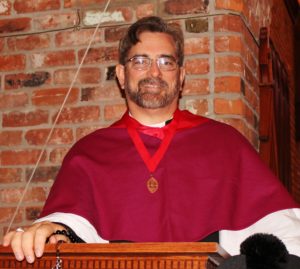 Lent I, March 5, 2017 – Fr W. Patric Edwards
Genesis 2:15-17; 3:1-7
Psalm 32
Romans 5:12-19
Matthew 4:1-11

Ash Wednesday, March 1, 2017 – Fr W. Patrick Edwards
Isaiah 58:1-12
Psalm 103
2 Corinthians 5:20b-6:10
Matthew 6:1-6,16-21
Epiphany Last, February 26, 2017 – Fr W. Patrick Edwards
Exodus 24:12-18
Psalm 2
2 Peter 1:16-21
Matthew 17:1-9
Feast of Polycarp, February 23, 2017 – Fr W. Patrick Edwards, given at the Cathedral of the Incarnation
Revelation 2:8–11
Psalm 34:1–8
Matthew 20:20–23
Epiphany VII, February 19, 2017 – Fr W. Patrick Edwards
Leviticus 19:1-2,9-18
Psalm 119:33-40
1 Corinthians 3:10-11,16-23
Matthew 5:38-48

Epiphany VI, February 12, 2017 – Fr W. Patrick Edwards
Sirach 15:15-20
Psalm 119:1-8
1 Corinthians 3:1-9
Matthew 5:21-37
Epiphany V, February 5, 2017 – Fr W. Patrick Edwards
Isaiah 58:1-12
Psalm 112:1-10
1 Corinthians 2:1-16
Matthew 5:13-20
Epiphany IV, January 29, 2017 – Fr W. Patrick Edwards
Micah 6:1-8
1 Corinthians 1:18-31
Matthew 5:1-12
Psalm 15
Epiphany III, January 22, 2017 – Fr W. Patrick Edwards
Isaiah 9:1-4
1 Corinthians 1:10-18
Matthew 4:12-23
Psalm 27:1, 5-13
Epiphany II, January 15, 2017 – Fr W. Patrick Edwards
Isaiah 49:1-7
Psalm 40:1-12
1 Corinthians 1:1-9
John 1:29-42
Advent IV, December 18, 2016 – Fr W. Patrick Edwards
Isaiah 7:10-16
Psalm 80:1-7, 16-18
Romans 1:1-7
Matthew 1:18-25
Advent III, December 11, 2016 – Fr W. Patrick Edwards
Isaiah 35:1-10
Psalm 146:4-9
James 5:7-10
Matthew 11:2-11
Advent II, December 4, 2016 – Fr W. Patrick Edwards
Isaiah 11:1-10
Psalm 72:1-7, 18-19
Romans 15:4-13
Matthew 3:1-12
Feast of Christ the King, November 20, 2016 – Fr W. Patrick Edwards
Jeremiah 23:1-6
Canticle 16
Colossians 1:11-20
Luke 23:33-43
Pentecost XXVI, November 13, 2016 – Fr W. Patrick Edwards
Isaiah 65:17-25
Canticle 9
2 Thessalonians 3:6-13
Luke 21:5-19
Pentecost XXV, November 6, 2016 – Fr W. Patrick Edwards
Haggai 1:15b-2:9
Psalm 98
2 Thessalonians 2:1-5, 13-17
Luke 20:27-38
Pentecost XXIV, October 30, 2016 – Fr W. Patrick Edwards
Habakkuk 1:1-4; 2:1-4
Psalm 119:137-144
2 Thessalonians 1:1-4, 11-12
Luke 19:1-10
Pentecost XXIII, October 23, 2016 – Fr W. Patrick Edwards
Joel 2:23-32
Psalm 65
2 Timothy 4:6-8,16-18
Luke 18:9-14
Peter Larsen's Parting Sermon, September 28, 2014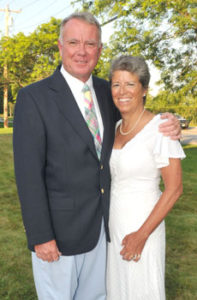 There was a priest retiring from St. Bridget's Church after serving 25 for years and the Parish organized a gala and had a dinner. Everyone brought him a lot of gifts so they invited the senior politician of the community, who was also a member of the parish, to be the master of ceremonies and to hand out the gifts to the pastor. So the night of the dinner the senior political person was tied up and was going to be late. Everyone was there though, so Father O'Malley decided he would give his remarks first instead of at the end of the celebration. So he said: "I came here 25 years ago and I wasn't quite sure what I had got myself into. I had my first confessional and the first one that came in said this: I stole a TV set as a teenager and then lied to the police about it, I've stolen money form my own mother, I've embezzled money where I work and I'm having an affair with the bosses wife. The priest went on to say: I was appalled!  But as the weeks and months went by I decided that this was a church filled with wonderful people." The crowd gave him a nice applause and as they quieted down the politician rushed into the hall with great fanfare and strode right down to the podium and thanked everyone for the applause. He told them to sit down and began to hand out the gifts to Father O'Malley. And then he said: "I just want to say one thing. I'll never forget that Father O'Malley has always told me that my confession was the first one he heard…"
I want you to picture (most of the tourists have gone out of town) but a the height of the tourist season here in August, there is a guy out there standing on the beach with his back to the water..he has a large shell held up to his ear and he is trying to hear the water..the sun is beating down on his shoulders and his head and every once in a while the water hits his ankles and he is a little annoyed about that; he's squeezing the shell harder and harder to his ear to hear the ocean,. Silly isn't it? But often times some of us, myself included, we keep chasing something without realizing we are already there..we're running on a treadmill and why?? Or the numbers don't quite add up..what we need to do is put down our shell and turn around and just look.
This is a wonderful Parish church, in fact all the churches in the village and really great and strong…and this community we live in, right by the water, some of the best places in the world are right here. We are all truly blessed,
Many of you in your professional lives have journals mailed to you. I certainly do – all sorts of religious journals that are filled with all sorts of church theology, religion and church politics. Often, in the back of these journals, are letters to the editor. Once, there was one that went something like this:
 "Dear Editor, I've attend church for 30 years and over the course of that time I have herd over a thousand sermons. I don't go every Sunday but I go most Sundays and have heard at least 1,ooo sermons and I can't remember one of them. There I think I am wasting my time listening to them and certainly the ministers that write them and present them are wasting their time..Signed sick and tired. And if you are the editor of one these things you just love to incite and stir up the pot, much like the Southampton Press, you just love to stir up the pot and when people respond and you can't wait till next Thurs to see what people wrote!  So a letter appeared several months later and it said: Dear sick and tired; I've been married for 30 years and my wife by my calculations has prepared over 32,000 meals and for the life of me I can not remember the menu of one of them. However they gave me the nourishment to go on and do the work I do."
And finally my favorite story: It takes place in Poland in 1923. There was a nurse there well beloved by this small poor community; who was basically their doctor and she was a Quaker. And one day she suddenly died. There was a great discussion as to what to do with her body because the only cemetery there was Catholic and you couldn't be buried there unless you were Catholic. So the church leaders met and they came to an agreement and they buried her just outside of the fence of the cemetery. The night of her burial some of the families of the peasants who had been treated by her went and moved the fence…
You good people of St. John's and this community have, time and time again, moved the fence. Because you have taken the Gospel to heart. You have made it a practice in your daily lives and I just want to say that it has been an honor and privilege to serve you.
The Reverend Peter M. Larsen