St. John's Invitational Art Exhibition and Sale – July 14, 2018
The St John's Invitational Art Exhibition and Sale returns to Southampton featuring local artists on Saturday, July 14, 2018, from 5:30 PM to 7:30 PM in the St. John's Parish Hall.
Tickets are $75.00 per person. The proceeds will support St. John's Episcopal Church and its many ministries while offering a wonderful cultural event for Southampton.
You may purchase your tickets by contacting the church office at 631-283-0549 or at the door.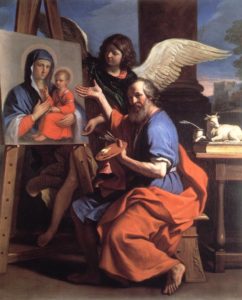 Invitation to Join the Guild of Saint Luke
Dear Friends,
We joyfully welcome back all our summer residents to restore the full complement of our community, and we hope you are making plans to join us on Saturday, 14 July at St John's for our annual Invitational Art Exhibition and Sale.
We are writing you personally today to ask your prayerful consideration of accepting our invitation to become a charter member of our Guild of Saint Luke as a part of our annual show and sale.
Saint Luke, the author of the third Gospel, is revered in the Church as the patron saint of artists. He is given this distinction owing to the tradition that he was the first painter of icons in our history. He is said to have painted several icons of the Virgin Mary and the Christ child, some of which survive to this day. In late mediaeval Europe, Guilds of St Luke, especially il Accademia di San Luca in Rome, were founded to patronize and nurture painters and other artists.
We see our exhibit and sale as continuing in the intention of the medieval guilds, and to that end we are forming our own Guild of Saint Luke.
Your support of $500.00 or the level of your choice will enable us to defray the expense of hosting this event, allowing us to continue to exhibit our local artists and sponsor sales of their work, while maximizing the fundraising capabilities of the event to support the ministries of St John's Episcopal Church in our community.
We hope we can count on your support, and look forward to receiving your gift.
Thank you in advance for your generosity and support. When we see each other at the exhibition we are sure you will agree it is an event worthy of your patronage, in the spirit of the Guild of Saint Luke.
Peace and all good things,                                With gratitude,
Fr W. Patrick Edwards                                      Larry Horton
Rector                                                                   Art Show Chair 2018
Guild of Saint Luke Form to Print and Send Back
Annual Beach Barbecue – Thursday, Aug. 2, 2018
St. John's Episcopal Church will be holding its annual beach barbecue for parish family and friends. A bonfire on the beach will follow in the evening. Join us for food, drinks, fun, and fellowship. at the Main Beach on Gin Lane by the Bathing Corp.
Previous Outings and Events
Day Trip to The Met Cloisters

Our very own Fr. W. Patrick Edwards provided commentary on medieval church history and its significance as friends of St. John's Episcopal Church toured The Met Cloisters.  The Met Cloisters is the branch of The Metropolitan Museum of Art dedicated to the art, architecture, and gardens of medieval Europe. Opened to the public in 1938, and deriving its name from the five medieval cloisters that form the core of the building, it presents a harmonious and evocative setting for more than 2,000 exceptional works of art and architectural elements from the medieval West.
Along with strolling through the gardens, we took in paintings, tapestries, chapels, carvings and halls designed for different periods. While the Late Gothic Hall showcases 15th-century limestone windows and altarpieces from Germany, Italy and Spain, the Romanesque Hall features stone portals from 12th and 13th-century French churches. Lunch was enjoyed over the impressive views of the Hudson River from The Cloisters hilltop setting.
The Beginning of Summer Bazaar
Fresh home-baked cookies, muffins, brownies, tarts, breads, Bundt cakes, pickled foods, small pies and cakes, and other homemade goodies.
Specialty cheeses from Mecox Dairy
Jewelry
Fairy Gardens
Plants & Flowers (including hanging baskets, potted plants, and herbs)
Hot Dogs, Ice Cream, Beverages
Expanded Kids' Korner Includes:
Slime, Trail Mix, and Science stations
Bounce House & Art Nanny
Admission:  $15 for all activities, or $5 each