Popcorn Theology // Friday, January 26, 2018 at 7 PM
The play written by Robert Bolt in 1962 was not considered a hot commercial property by Columbia – a period piece about a moral issue without star, without even a love story. Director Fred Zinnemann's result took everyone by surprise, as his film became a box-office hit and collected top Oscars for 1966.
At its heart is the standoff between Henry VIII (Robert Shaw) and Thomas More (Paul Scofield, in an Oscar- winning performance). Henry wants More's official approval of divorce, but More's strict ethical and religious code will not let him waffle.
Zinnemann's approach is all simplicity, and his prosaic staging created excitement and grace. The language is worth savoring, and the ethical politics are debated with all the calm and majesty of a truly titanic struggle.
Candlemas Celebration // Friday, February 2, 2018 from 7 PM – 10 PM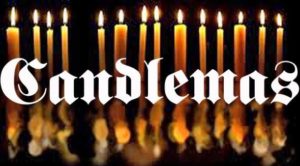 Candlemas is the holiday celebrating three occasions in the Christian calendar: the presentation of Jesus; His first entry into the temple; and the Blessed Virgin Mary's purification.
Marking mid-winter eve, it celebrates the lengthening of days with the blessing of candles for the church along with those brought by the people for use in their homes.
Day Trip to The Met Cloisters

Our very own Fr. W. Patrick Edwards provided commentary on medieval church history and its significance as friends of St. John's Episcopal Church toured The Met Cloisters.  The Met Cloisters is the branch of The Metropolitan Museum of Art dedicated to the art, architecture, and gardens of medieval Europe. Opened to the public in 1938, and deriving its name from the five medieval cloisters that form the core of the building, it presents a harmonious and evocative setting for more than 2,000 exceptional works of art and architectural elements from the medieval West.
Along with strolling through the gardens, we took in paintings, tapestries, chapels, carvings and halls designed for different periods. While the Late Gothic Hall showcases 15th-century limestone windows and altarpieces from Germany, Italy and Spain, the Romanesque Hall features stone portals from 12th and 13th-century French churches. Lunch was enjoyed over the impressive views of the Hudson River from The Cloisters hilltop setting.